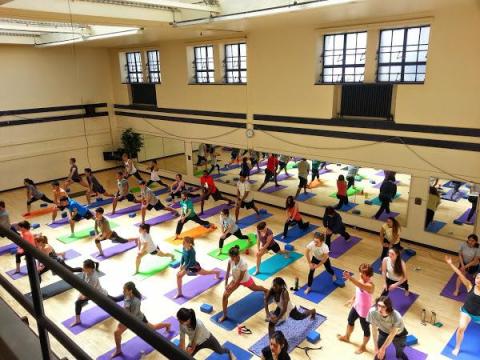 The Payne Whitney Gym (PWG) is proud to continue the Yoga Pass program, now in its fifth year. This program is very popular among gym members and non-members alike!
What is a Yoga Pass? It is a card that will allow you to attend any scheduled yoga class through the Payne Whitney Gym on the days and times that work best for you that week…and there's no limit! Take as many yoga classes a week as you like!
There are many experienced yoga teachers and styles to choose from: Ashtanga, Beginner, Bowspring, Hatha, Kundalini, and Vinyasa.
At many yoga studios, a month of unlimited yoga costs $130. With the PWG Yoga Pass, you get 12 weeks of unlimited yoga for $125 for members (which includes ALL students) and $150 for non-members! Passes for individual yoga series are also available, see schedule for rates.
Use the link below to register for classes online, or register in room 509 of the Payne Whitney Gym during regular business hours. 
Other class series like Pilates, Cardio Kickboxing, Ballet and Karate are also available, though rates will vary, see schedule for details.
For full class schedule, fees, or to register, click here. 
Did you know? The PWG also hosts FREE Drop-In Meditation, sponsored by Yale Health Student Wellness, in the second floor Trophy Room, Tuesdays, from 7-7:45 p.m. No advanced registration is needed for these sessions. Beginners welcome!
Call 203-432-1431 for more information.