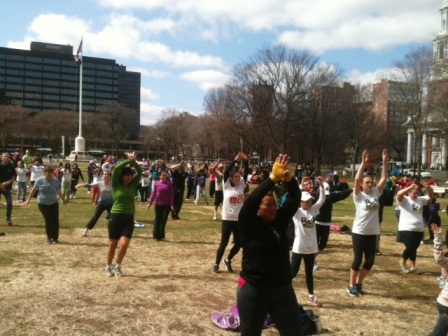 Get Healthy Connecticut's first annual "Get Fit Day" on the New Haven Green was hosted by the City of New Haven, Yale School of Public Health and Yale-New Haven Hospital on Saturday, April 5, 2014 from 10 am-3 pm.
The Honorable Mayor Toni Harp and others helped to bring the Get Healthy Connecticut physical activity directory to life on the New Haven Green in collaboration with City of New Haven Parks and Recreation department.  Activities for all ages included exercise classes, climbing wall, walking tours, healthy food and health screenings. Lots of families came to the Green for free, fun activities!
Participants in the New Haven weight loss challenge donated their weight in pounds of food to two local food pantries as part of Get Healthy Connecticut's "Pound 4 Pound" initiative in support of the Downtown Evening Soup Kitchen (DESK) and FISH of Greater New Haven.
Get Healthy CT is a coalition dedicated to preventing and reducing obesity by removing the barriers to healthy eating and physical activity through the inclusive collaboration of key stakeholders in the community.  Members of the Get Healthy CT coalition include Being Well at Yale, CARE at the Yale School of Public Health, Central CT Coast YMCA, City of New Haven, City of New Haven Parks and Recreation, Cornell Scott-Hill Health Center, DataHaven, Fitizen, New Haven Food Policy Council, New Haven Public Schools, Yale-New Haven Hospital, community members and others. It's all coming together at GetHealthyCT.org.
Photos from Get Fit Day: Mayor Harp kicks off the day's events (below left) and Tai Chi demo by Bill Banick (right)