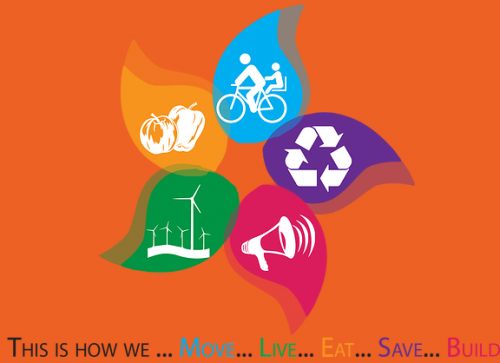 Annie Harper, Coordinator, Yale Community Carbon Fund, Yale Office of Sustainability, answers some questions about the New Haven Healthy City / Healthy Climate challenge with Being Well at Yale.
BW: What is the goal of the pledge?
AH: To get as many people as possible signed up. Pledging really does two things.
1) it gives motivation to individuals to make changes in their lives, and links them to the website which has lots of good ideas about how to achieve the pledge and go even further. Some people tell us they don't need to pledge because they've already made those changes – we like to tell them that they should pledge and then go even further! AND share the pledge information with people they know who need to change their behavior.
2) anyone who pledges becomes part of a community of pledgers who will receive an occasional email newsletter about progress made with the challenge, and also specific news/events/activities relevant to climate change.
BW: What is the time frame of the pledge?
AH: No time frame – it's an ongoing initiative.
BW: Are there any events/talks/programs that coincide with this initiative?
AH: The city of New Haven is planning an energy efficiency outreach campaign during the summer, encouraging residents to sign up for programs to make their homes more energy efficient. We'll be supporting them with that. The programs are available to all residents of Connecticut, whether they live in New Haven or not.  We are also planning a 'transportation campaign' for July, for which we will be asking people to change the way they get around, encouraging cycling, walking and bus rather than cars. 
Also, we are working with Alder Brackeen from the Board of Alderpeople (BOA) helping him push climate change action in the city. We just participated in a press conference last Monday relating to Alder Brackeen's sponsored resolution on the Clean Air Act going to the BOA. We'll be doing more with Alder Brackeen moving forward. http://www.newhavenindependent.org/index.php/archives/entry/a_night_with_the_alders/.
BW: What is Yale's involvement with this effort?
AH: I am on the steering Committee of the New Haven Healthy Climate Challenge, representing the University's Office of Sustainability. We see our involvement as key to engaging with the broader New Haven community around sustainability issues.
BW: Thanks for your time, Annie. I have taken the pledge and I look forward to learning more about the transportation campaign in July. To take the pledge or learn more about the New Haven Healthy City, Healthy Climate initiative, visit healthyclimatechallenge.org.