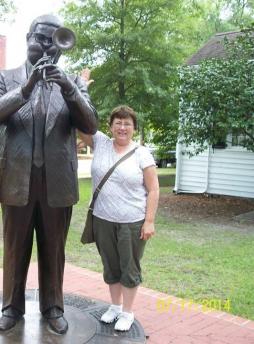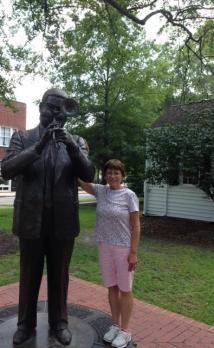 2014                                                                    2015
Timing is everything. Jill Stone, Yale Law School's Director of Financial Aid, had been working with a physical therapist for chronic muscle pain who encouraged her to lose weight to help with her progress. Never envisioning herself thinner and thinking that it was too late to really make a difference, she was fairly confident that she'd just live with the pain and extra pounds. She headed back to the office and came across an email promoting an upcoming Weight Watchers at Work open house and a partial reimbursement incentive.  Intrigued by the convenience and the incentive, she decided to sign up.
Jill still remembers the fear of walking through the door at the first meeting. Seventy five pounds later and virtually pain free, she hasn't looked back. "The program is a gift and has been extremely valuable and life-changing.  Knowing that Yale is offering and supporting this program means a lot."  The supportive and non-threatening Weight Watcher's group environment is led by a caring, welcoming team of "life-timers," sharing tips and cheering each other on. The program's very livable format has forever changed Jill's relationship with food.  Fruits and vegetables are now a mainstay; in fact she admits she'll take a handful of grapes over a cookie anytime! She taps her inner chef and regularly experiments with new recipes, finding the courage to try new foods.
Staying on plan has become second nature. Weekly weigh-ins and tracking what she eats on her smart phone with Weight Watcher's e-tools, have provided her with built-in accountability and the need to shop for a new wardrobe; 6 sizes smaller in fact! As an added bonus, she also joined a gym this year and is now a regular on the treadmill and elliptical machine two to three nights a week. The Weight Watchers at Work program has provided Jill, now a lifetime member, with the tools to lose weight while gaining confidence to make lasting lifestyle changes.