Enjoy the convenience of attending Weight Watchers ® meetings at work and learn how to make positive changes to lose weight and keep it off.  You can join a series at any time, regardless of when the series began.  Just stop by one of the meeting locations listed below.  The weigh-in is held for the first 15 minutes and meeting for the remaining 30 minutes.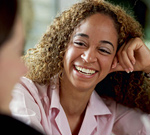 12-Week Series:
Mondays, 12:00 PM - 12:45 PM at Yale Health (55 Lock Street) in Conference Rooms B and C on the first floor
Thursdays, 12:00 PM - 12:45 PM at 221 Whitney in Room LL16 on the lower level
Thursdays, 12:30 PM - 1:15 PM at 25 Science Park in Room 549 on the 5th floor
17-Week Series:
Tuesdays, 11:45 AM - 12:30 PM at 333 Cedar Street, SHM B-201 (Giarman Room)
Room locations occasionally change, so please contact beingwell@yale.edu for the most up to date information.
Details about program prices and the partial reimbursement incentive can be found below.
17-week series (at 333 Cedar Street only)
Interested  in starting a Weight Watchers ® at Work series in your department or still have questions? Contact beingwell@yale.edu.