Danielle Casioppo, MS, RYT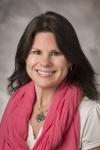 Address:
55 Lock St, New Haven, CT 06511-3603
Danielle Casioppo is a Health Educator and a Certified Yoga Teacher. She received her Bachelor's degree in Psychology from Albertus Magnus College and a Master of Science in Applied Psychology with a special focus on Community Psychology from Sacred Heart University. Prior to becoming Health Educator for Being Well at Yale, she was a Senior Administrative Assistant at Yale Health and prior to that a research assistant at the School of Medicine. Danielle is passionate about understanding occupational stress and teaching the Yale community about ways to manage and reduce stress.
Danielle is the full-time Health Educator for Being Well at Yale, where she focuses on teaching programs that reduce stress and increase well-being to faculty and staff.  She teaches yoga at the Payne Whitney Gym during the academic year. Danielle also enjoys speaking about the history of yoga and provides community programming on request.
Danielle was introduced to Hatha yoga over 20 years ago and developed a steady practice through the years. Her passion for the ancient science of yoga drove her to become a certified Hatha-Tantra yoga teacher in the ParaYoga® lineage in 2011. She is also trained in Mindful Yoga Therapy through Embodyoga® and Mindful Resilience Yoga Therapy for Trauma Recovery through the Veteran's Yoga Project ®.  Danielle regularly attends workshops, seminars and classes to enhance her knowledge, practice and teaching and is currently working on completion of a certificate course in Positive Psychology from the University of Pennsylvania.