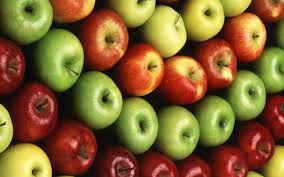 Surrounded by a surplus of pastries and sweets, Bethany Zemba, Chief of Staff and Assistant Dean at the School of Forestry and Environmental Studies, wanted to plant a seed to bring faculty, staff and students together by engaging the F&ES community to make healthier snack choices and support sustainability efforts. Partnering with Being Well at Yale, they developed the department wellness initiative, "An Apple for Your Thoughts." For two weeks, baskets of fresh, locally-grown apples were placed in all six F&ES buildings.  While free of charge, there was one simple request: take the pledge to eat the apple in place of an unhealthy snack. Participants were asked to fill out a pledge card, noting what unhealthy food they would be replacing with the apple. 
In just two weeks faculty, staff, and students consumed more than 350 pounds of fresh, juicy apples! From Gala and Granny Smith, to Macoun and McIntosh, apples replaced cookies, chips and pastries. Candy, chocolate, and soda fell by the wayside too.  Rave reviews highlighted the positive impact of making healthier snacks more accessible.
"I don't eat apples at home, but I tried one the other day and loved it! I felt even better knowing that I wouldn't be desperate to resort to refined sugar. Thanks for enabling such healthy eating habits."
"I ate more apples during the course of this program than I've eaten in a long time. It was great to have fresh fruit options available."
Others expressed appreciation… "I just wanted to write to say how much I enjoyed the 'apples project.' It was a fun idea that the F&ES community seemed to really enjoy. For the past two weeks the apples were frequently brought up in conversation; I'm sure they'll be missed! The apples were a great go-to when I didn't have time to grab a proper lunch, which did indeed save me from eating junk food."
"Thanks again for organizing the "Apple for your thoughts" project!  It was a great way to not only enjoy a healthy snack, but make a conscious decision about bettering our health.  I appreciated the opportunity to think about how little decisions can add momentum to healthy life changes."
Though the apples baskets are now empty, this initiative sparked the demand to increase the fruit offerings at Kroon Hall's BYOCafe.  Others have expressed interest for an "Apple for Your Thoughts, Part 2," all signs that the F&ES community will continue to enjoy the fruits of their labor.