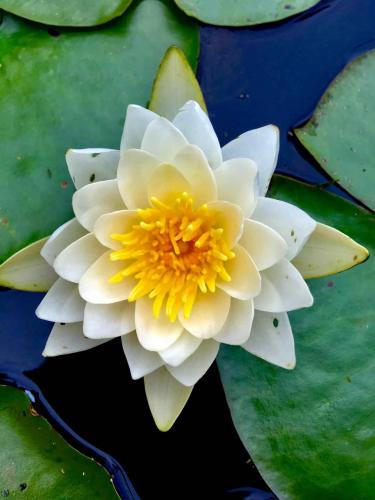 Beginning in mid-March, Being Well at Yale moved all of its wellness programming to Zoom in response to University guidelines to hold classes online and to work remotely. Thankfully, offering wellness programming online was not entirely new for health educator and certified yoga teacher, Danielle Casioppo since she has been offering meditation online since 2018 to the Yale Alumni Association. But now all programs would be taking place online, including her popular Rise and Shine Mindful Movement in the Morning classes. Not sure how this would go, Danielle expanded her home yoga and meditation space in order to continue all her regularly scheduled wellness programs online and instead of her traveling around campus to the various groups, she would bring them in to her home, virtually.
"At first it felt a little awkward", Danielle recalls, "having to lead movement classes where it wasn't possible to see everyone in the class, their form and how they are doing. But after a few sessions, I got more comfortable with it and started to really focus on using even more specific and understandable verbal cues and demonstrating every movement and posture as clearly as possible." 
Purposefully gentle and very accessible, Rise and Shine Mindful Movement in the Morning sessions have always used chair exercises and standing yoga postures and have been aimed largely at beginners or people who may be recovering from an injury. In fact participant Darlene, a staff member shared, "I had a full knee replacement surgery in the fall [of 2019] and boy does [this] class help with the balance and stretching. The recorded classes are great also." 
Another staff member, Christine, appreciates the touch point the Rise and Shine classes provide for her, "I just want to say thank you so much for these classes.  I'm very grateful that Yale provides this upbeat and energizing way to start the day during these anxious times." And Lee, who has been practicing with the group since March, puts it simply, "such a good way to start the day!"
In the afternoon, the Yale Community Drop-in Meditation sessions also provide a space for Yale affiliates (faculty, staff, students, alumni and retirees) to find community, or as long-time participant alumna Laura B., '88, sees it, "for creating space for us and within us."
And although newer to the group, alumnus Alan C., '72, feels right at home when he says, "Thank you so much for including me in this semester's drop-in meditations.  It has been a delight and an inspiration to participate in these zoom sessions. Each one has provided insight and inner peace as well as motivation to maintain a daily meditation practice. As a Yale alumnus, I am so proud that my alma mater has prioritized mindfulness and wellness." 
The meditation sessions are followed by optional shared reflections or comments from anyone in the group, often resulting in a robust discussion of that day's topic or theme. Group member Jane agrees, "I really enjoy the other people who join the meditations. I love [their] comments."
Both programs are on hiatus during the month of July but will be resuming on Zoom in August. If you're interested in joining either program, reach out to beingwell@yale.edu and specify which program and which day you'd like to join. You will then be sent the Zoom link and passcode to join that particular program before it starts in August.
In the meantime, if you'd like to try these programs out or you can't make it to the live sessions, there's the option of doing them at your convenience with the recorded sessions in Box, accessible to all Yale faculty, staff and students with a valid net id. 
https://yalesecure.box.com/v/RiseAndShineMindfulMovement