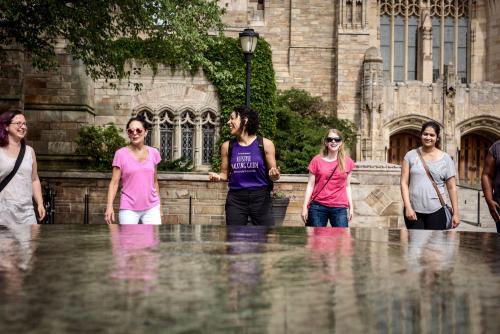 Fall Fitstyle Walking Tours are back! Explore Yale and downtown New Haven and find time for exercise with these noontime walks led by Shana Schneider, a Yale alumna, New Haven resident and certified group fitness instructor. 
She'll take you along new routes and share some fun facts along the way. She'll keep the pace to about a 20-minute mile and cover about 2-miles.  Space is limited and registration is required. 
BACK THIS FALL: Sometimes we need a little help from our friends…that's where the fitstyle personalized messages come in!
When we can't walk together, receive a quick and easy to follow FITSTYLE TIP that you can incorporate into your day so you can…rack up those STEPS or just get MOVING on your own or with colleagues.
Here's what you'll receive when you sign up:
2-3 motivational messages a week (via text or email - you can choose!) from October 8th through November 30.
surprise challenges and prizes…so you'll want to check your messages so you don't miss out.
motivation to move so you can keep your body healthy and fit.
Register for an upcoming walk.