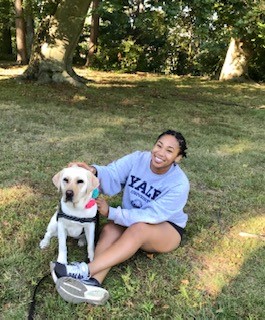 The sun is just coming up over the horizon, morning birds are calling out to one and other, the grass is wet with dew and trees gently sway in the cool morning air. The location is Farnam Memorial Garden, the perfect place for a Nature Immersion Morning Meditation.  Farnam Memorial Garden is a  "living museum" of ancient trees and new urban meadows, situated above the Yale Farm and next to the Leitner Observatory, it's truly an oasis in the heart of Yale campus.
During a Nature Immersion Meditation the first invitation is to unplug from technology and start the day by tuning in to nature, to open the senses to the natural world as a way to calm the mind, heal the body and invigorate the spirit. The practice is a slow walking and standing meditation so no mats or blankets are needed though there are a couple of benches on the property for anyone who would like to sit. And of course participants are welcome to sit upon a rock or patch of grass that is calling to them.
Instructor Danielle Casioppo says, "This practice is a way for us to slow down, to pause, to notice some of the gifts that nature has to offer, which we normally may be too busy to take notice of and appreciate."  Indeed, participants are instructed to open up all of their senses, and get curious - allowing the natural world to extend an "invitation to commune" - through sight, sound, smell and touch.
Returning participant Thais Sobczak shares her experience, "It is a breath of fresh air (literally) to be back on campus and back to our Nature Immersion Meditation. The practice is simple, yet profound. I am so grateful to connect with nature, and for the opportunity to share this experience with my meditation friends."
Participants got an unexpected surprise by a welcomed visit from Yale Police Service Dog Heidi (pictured above) and her handler, Officer Rich Simons who walks Heidi at Farnam periodically. "Getting to spend a few moments in 'pet-atation' was the perfect way to close the meditation practice and made it even nicer to be back on campus!", said Casioppo. For more information about Service Dog Heidi, check out her Instagram page. 
To register for the October Nature Immersion Meditation Sessions, please contact Being Well at Yale, beingwell@yale.edu  or call 436-8270.  All Yale affiliates are welcome!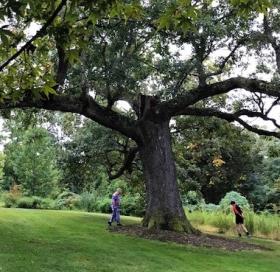 Photos courtesey Danielle Casioppo.