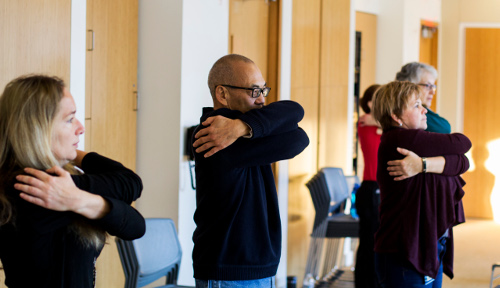 Being Well at Yale's new Mindful Movement series is for the birds - early birds, that is!  The class begins promptly at 7:30 a.m. as instructor Danielle Casioppo invites participants to begin their day with the gifts of movement, breath and balance.  Danielle is the Health Educator for Being Well at Yale and a Registered Yoga Teacher. She designs the classes as 45 minute wellness sessions which are made up of gentle stretches, seated and standing yoga postures, breathing practices, and a bit of laughter, all meant to increase flexibility, both physical and mental. Balance is another important feature of the program so each session includes one or more postures which provide an opportunity to challenge physical balance - something that is vitally important as we age. The sessions conclude with a brief guided meditation and an invitation to practice gratitude in the moment by acknowledging the importance of making time for one's own wellbeing. The combination of these practices leave participants feeling calm, focused, and ready for the day ahead.  
The Rise and Shine sessions are offered in monthly (four-week) series and are designed to be accessible for all ability levels. In fact, at the start of each class, Danielle emphasizes the importance of doing only what feels right for each person's body, "You know your bodies best", she tells the class. Participants need not have any prior yoga or meditation experience and no equipment is needed - including yoga mats. All exercises are done seated in chairs or standing with the aid of chairs as props if they're needed. Regarding why the use of chairs, Casioppo explains, "for many people, getting down to and up from the floor can be a real barrier to exercise or when considering trying a more traditional yoga class. The chairs provide extra stability during balancing postures and a safe way to ground the body without having to go all the way down to the floor." 
Participants can wear work attire as long as they're able to move freely - so there's no need to change clothes unless one wants to. As an added bonus, free 90 minute parking is available in the Lock Street garage next to Yale Health. So, whether you're looking to begin a healthy morning routine, or you have always wanted to try yoga or meditation, or perhaps you're just looking to release some stress and get a good stretch, this class may be just what the doctor ordered.    
What participants are saying: 
"The instructor is terrific, explains everything very clearly, is clearly very knowledgeable, and it provides a great and energizing start to the day. It's convenient, free, and no change of clothes required!"
"I wasn't sure this was really for all levels but it truly is. Give it a try and you will be surprised with the outcome!"
"I have been most impressed at how accessible and challenging at the same time the class has been."
"I LOVE this series. I started in January and just kept on going. I'm not the most limber or accomplished person in the class but I get out of bed early to get there on Fridays, ready to challenge myself. I have never had this experience before. I've tried yoga a few times but the instructors over the years always seemed to want to get us to try extremely difficult poses. Danielle has such a wonderful kind gentle approach - explains everything really well, sometimes using funny metaphors, she keeps it light and importantly serious at the same time. I've learned so much and I can't say enough what this series has done for my wellbeing and mental positivity. Thank you!"