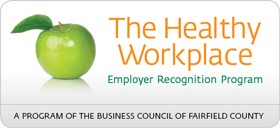 Yale University has been recognized as a Platinum award winner by the Healthy Workplace Employer Recognition Program. Platinum winners are employers with well established comprehensive healthy workplace programs that demonstrate measurable success and documented outcomes.
The Healthy Workplace Employer Recognition Program has become the premiere award in Connecticut recognizing the outstanding achievements of businesses and organizations in implementing employee health promotion and wellness programs. The program acknowledges efforts to facilitate and encourage employee health, enhance productivity, and ensure healthy work environments. Nominated programs are reviewed by a committee of experienced professionals in a formal process using detailed criteria and standardized application materials. 
Lisa Kimmel, MS, RDN, CDN, Senior Manager, Being Well at Yale and Susan Abramson, Manager, Worklife and Child Care programs submitted the application on behalf of the University and the Office of Federal Relations and presented as part of a three company panel at the awards program on February 25th.