Danielle Casioppo, MS, CAPP, RYT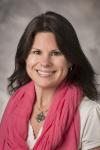 Address:
55 Lock St, New Haven, CT 06511-3603
Danielle Casioppo is a Health Educator and a Certified Yoga Teacher. She received her Bachelor's degree in Psychology from Albertus Magnus College and a Master of Science in Applied Psychology with a special focus on Community Psychology from Sacred Heart University. In addition, she has completed foundational course work in Positive Psychology from the University of Pennsylvania and completed a certificate course in Applied Positive Psychology. Prior to becoming Health Educator for Being Well at Yale, she was a Senior Administrative Assistant at Yale Health and prior to that, a research assistant at the School of Medicine. 
As the full-time Health Educator for Being Well at Yale, Danielle focuses on teaching programs that educate faculty and staff on ways to reduce stress and increase well-being.  She is passionate about understanding occupational stress and sharing evidence-based methods for increasing resilience and bringing out the best in others. 
Danielle was introduced to Hatha yoga over 20 years ago and developed a steady practice through the years. Her passion for the ancient science of yoga drove her to become a certified Hatha-Tantra yoga teacher in the ParaYoga® lineage in 2011. She is also trained in Mindful Yoga Therapy through Embodyoga® and Mindful Resilience Yoga Therapy for Trauma Recovery through the Veteran's Yoga Project ®.  Her yoga classes emphasize accessability and personal connections over perfect form.