Danielle Casioppo, MS, MHFA-C, RYT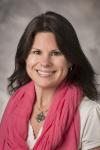 Education Specialist / Coordinator
Address:
55 Lock St, New Haven, CT 06511-3603
Danielle Casioppo is an Education Specialist/Coordinator and Certified Yoga Teacher. She received her Bachelor's degree in Psychology from Albertus Magnus College and a Master of Science in Applied Psychology with a special focus on Community Psychology from Sacred Heart University. Additionally she completed foundational course work in Positive Psychology from the University of Pennsylvania and the New York certificate in Applied Positive Psychology program. Related to this, Danielle is a Charter Certified Mindfulness-Based Strengths Practice instructor and a certified Mindful Health & Wellness Coach. She is also a certified Mental Health First Aid instructor.
As the full-time Education Specialist and Coordinator for Being Well at Yale, Danielle focuses on offering experiential programs which expand awareness and increase well-being.  Three of Danielle's signature programs are Rise & Shine!, a chair and/or mat-based yoga class which emphasizes accessibility over perfect form,  Yale Community Drop-in Meditation which began in 2015, still continues via Zoom with a diverse and supportive group of new and experienced practitioners from across Yale, and How to Help: Tips from Mental Health First Aid, an introduction to the life-saving course she is most passionate about.