Danielle Casioppo, MS, MHFA-C, RYT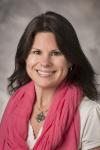 Education Specialist / Coordinator
Address:
55 Lock St, New Haven, CT 06511-3603
Danielle Casioppo is an Education Specialist/Coordinator and a Certified Yoga Teacher. She received her Bachelor's degree in Psychology from Albertus Magnus College and a Master of Science in Applied Psychology with a special focus on Community Psychology from Sacred Heart University. In addition, she has completed foundational course work in Positive Psychology from the University of Pennsylvania and completed the New York certificate in Applied Positive Psychology. Related to this, Danielle is a Mindfulness-Based Strengths Practice leader and offers this powerful course to Yale affiliates. 
As the full-time Education Specialist and Coordinator for Being Well at Yale, Danielle focuses on leading programs that educate participants on ways to reduce stress and increase well-being.  As such, she is passionate about sharing the life-changing course, Mental Health First Aid and so became a certified instructor in 2020. 
One of Danielle's signature movement programs is Rise and Shine! Mindful Movement in the Moring - a mostly chair-based yoga class which emphasizes accessability and personal connections over perfect form.