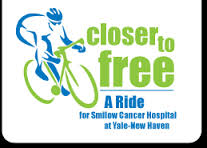 Saturday, September 6 will be the 4th annual Closer to Free Ride. The event, a fundraiser for Smilow Cancer Hospital at Yale-New Haven, consists of three bike rides throughout the Greater New Haven area. The routes are either 25, 62.5, or 100 miles long, and both start and end at the historic Yale Bowl.
ln 2013 the ride had 901 cyclists and raised $1.2 million dollars from 10,749 donors. The event earned itself the Best Charity Event in 2014 award from New Haven Living and it continues to grow. Funds raised are used to support Smilow's growing survivorship program, research into advanced cell therapies, and starting new research laboratories.
There is still time to support riders and their fundraising efforts! Visit the Closer to Free Ride website to make a donation to the event, a team, or an individual participant. And don't forget to cheer riders on at one of the designated cheering stations! See you on ride day!