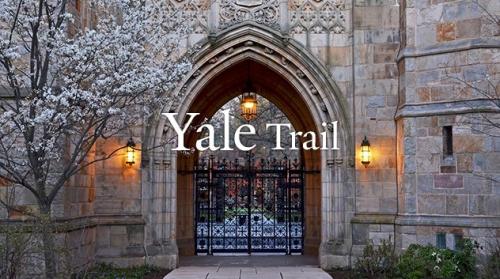 The Yale Trail 2022 has come to an end. It's been another very close challenge with several teams competing for first place! In fact, three teams have tied for first place!
Congratulations to the teams that tied for first place, each earning the maximum of 300 points:
The Essentials???? - Bartosz Migalski, Denise Kent, Jessica Wing, Jessica Tefft, Angeline Rodriguez, Trang Diep, Patricia Cirillo, Jennifer Wendel
'22 Blue Crew - Angela Gambaccini-May, Jennifer Gambaccini, Deirdre Eichner, Sara Wilhelm, Amrit Dhawan, Christine Holmberg, Anna Maria Hummerstone
Junk Milers - Dan Pickett, Neil Simpson, Sarah Dalrymple
And congratulations to the randomly drawn team:
Fievel's Revenge

- Jennifer Hromadka, Carly Drozd, Laurie Borelli, Jennifer Hunt, Shawn Kent, Christopher Titus, Sarah Jaworski, Heather Jackson
Truly inspirational effort from all 213 official teams and all of the individuals who completed this year's Yale Trail! The daily health behaviors in this year's challenge included exercise minutes or steps, active listening and no sugar-sweetened beverages.
Yale Trail 2022 stats:
Total registered participants: 1881
Total mobile users: 1095
Total official teams: 213
Total connected devices: 178 Fitbit, 488 Apple Health, 44 Other (Garmin, Movable, or YOO).
Prizes of Yale Hospitality Courtesy Cards will be awarded to the winning teams so they can enjoy a healthy lunch or snack at their convenience. 
This will be the last year for the Yale Trail which has run annually for four years. Prior to that, Being Well at Yale offered a variety of themed annual wellness challenges such as Walk the Wonders, European Expedition and Health Trails, to name a few. In all, there have been 12 previous wellness challenges at Yale! 
For next year, 2023, Being Well at Yale will be offering a different experience, a new online wellness campaign. And although the Yale Trail has ended,  the hope is that the healthy habits will last all year long!