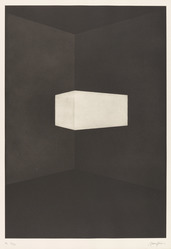 Drawing nearly 60 participants to the fifth and final of five Practice With Art: Cultivating Mindfulness in the Galleries sessions, facilitators Anne Dutton and Danielle Casioppo, took turns guiding the audience through two foundational mindfulness practices, seamlessly interwoven with the experience of encountering the work of art that day: James Turrell's Shanta. They worked with perception, light and dark, exploring how mindfulness can help us engage with art. 
Shanta is one of artist James Turrell's many famous works. Unlike many of his other works which are three-dimensional installations, it is a two-dimensional print made using the aquatint technique, which produces richly textured surfaces and a wide range of tonal values. Shanta is the relatively unknown older sister of the Hindu deity Rama, a figure in the epic tale, the Ramayana, and her name is a variation of the Sanskrit word shanti or peace. 
Most of the pieces chosen are not currently on display so this program provided a truly a unique opportunity to spend an uninterrupted hour with each individual work of art that otherwise would not be accessible, getting to know it intimately. This is a rare gift indeed in today's fast paced world and in a gallery full of so many priceless works calling for one's attention. Each of the five sessions provided time for observing the piece, mindfulness meditation, reflection and group discussion. Audience participation was strongly encouraged and many participants were eager to share their impressions and interpretations of the works - both before and after practicing mindfulness - noticing the difference in perception and experience. 
The initial idea for the collaboration came from Liliana Milkova, the Nolen Curator of Education and Academic Affairs who in April reached out to Anne Dutton, LCSW, Director of Mindfulness Education at the Yale Stress Center, and Danielle Casioppo, MS, Health Educator and certified yoga teacher with Being Well at Yale.  According to Milkova, "One of my goals as a museum educator is to foster close and slow looking, a process I would often describe as a mindful encounter with the work of art. The idea behind bringing mindfulness practice to the gallery was both to encourage our visitors to look in a more intentional and self-aware way and to think of our spaces as conducive to deep reflection and relaxation."
The three met several times to discuss the program's format, logistics, and most importantly, to choose the various works of art which would be the focus for each of the mindfulness sessions.  The program was so unique that it was featured in the online magazines Daily Nutmeg and India Currents. Based on the success of this series, the group hopes to offer another series in the future.  
In case you missed one or more of the sessions, the pieces can be seen online in the Art Gallery's catalog: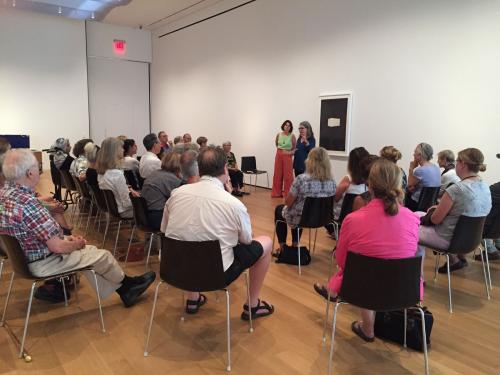 Danielle Casioppo and Anne Dutton, August 7, 2019. Photo credit: Liliana Milkova