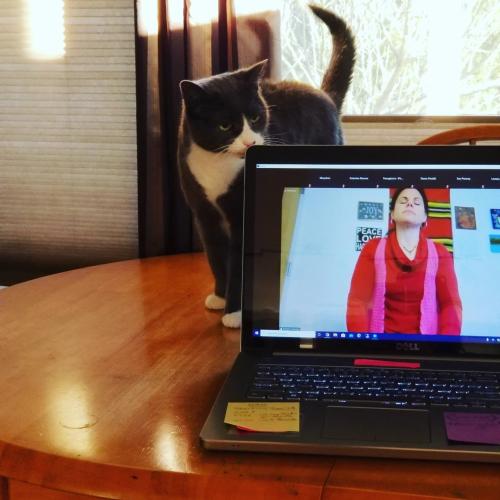 Rise and Shine! Mindful Movement in the Morning, is celebrating its third anniversary! The classes began on January 5, 2018 as an idea Education Specialist and certified yoga teacher, Danielle Casioppo, had to try offering a program before the workday began. "I didn't know if anyone would be interested in attending a movement-based class before work - so I began offering it at Yale Health one day a week and the classes were filling up, eventually the group got so big, we had almost no more space in the largest conference room there!"
In fact, the beginner-focused, chair-based yoga classes became so popular that several months later she had to add an additional morning at Yale Health. And in early 2019, the requests from staff at other locations around the University, places where it may take too long to get across town by 8:30 AM, started coming. So, Rise and Shine grew again, Danielle added another two days, one at 100 Church Street South and one at West Campus, in order to accommodate participants.
And then in March 2020, the pandemic changed everything because as we all know, in-person classes were no longer allowed for the foreseeable future. But, this was - and still is - a time when people need these kinds of resources most, so Danielle improvised. "I shifted all my classes and workshops to Zoom, which I had already been using for the afternoon Yale Community meditation sessions, so I had some experience with offering live classes on Zoom - but movement-based, that was new and took some getting used to. But now, almost a year later, the Rise and Shine classes are still going strong, new participants have joined and I've been able leverage the power of Box to upload the recordings so participants can practice at their own convenience or make up a missed session."
In fact, some participants have to rely on the recorded sessions, "I use the classes saved in Box more than your metrics will show since I downloaded my favorite class to play on my computer. I use it about three times per week. This course has been more essential to me during the pandemic than ANYTHING else (more than family, faith congregation, work colleagues, or friends)."
To that point, long-time participant Dawn Finaldi, Operations Manager, Department of Anthropology, shares, "I like to find the positive in any situation and in these trying times, I find that being able to do Raise and Shine more days per week is it!  When on campus I could only attend the sessions held at Yale Health, but while working from home, I am able to attend more days live, and on top of that, Danielle records the sessions and they are all available on Yale Box.  So I can get my Rise and Shine fix whenever I have time." 
They say word of mouth is the best way to share a good thing and participants do just that, Marleen Cullen, Registrar, Department of Anthropology, was introduced to the classes by her manager, Dawn. "My manager recommended I try Rise and Shine and I'm so glad she did because now I really look forward to it!"
Another participant echoes this sentiment, "I have recommended this class to many people. I love having them available and I feel they are good for my mental health."
A long-time participant of the program shares, "I am grateful for Rise and Shine every time I bend over to pick something up – prior to the sessions that was something difficult for me to do.  Now it becomes a welcome stretch!"
For Rise and Shine, as well as her other classes and workshops, Danielle feels strongly that the silver lining caused by the pandemic has been the necessity to shift programs online, "in doing so, the reach of each program has exceeded what would have ever been possible under normal circumstances. Now I have  participants from all over joining, many staff are still working remotely, and a few alumni and retirees join as well - some with their spouses or partners, it's really a wonderful, supportive group! The best part for me, is when participants share their stories, health challenges and successes privately and I feel so blessed to be a part of their self-care and healing journey."
One participant candidly shared their journey, "My mental health and well being have been greatly influenced by my participation in the weekly Rise and Shine yoga classes. The classes have helped me to maintain my strength as I supported family members struggling through the pandemic changes and helped me lose 25 pounds."
And, if you're someone who is new to yoga or feels self-conscious, as Dawn says, "If someone was hesitant about trying Rise and Shine in person, checking it out on Zoom is perfect for them. They will be in the comfort of their own home, they won't have to worry about anyone else seeing them, except maybe their dog.  It's a great way to start the day."
Indeed, this participant agrees, "I LOVE yoga now. I was afraid to try it at first because I feared I couldn't do all of the poses but Danielle makes everything accessible and there are modifications she gives for those who have different abilities! LOVE YOGA now!"
For 2021, Rise and Shine on Zoom is currently being offered from 7:30 - 8:20 AM Tuesdays and Fridays.  Tuesdays are chair and standing postures, so have a sturdy chair on a non-slip surface, and Danielle recommends practicing near a wall, if possible, for the standing postures. Fridays are now floor-work based so a yoga mat or towel is helpful. The floor stretches and postures are beginner-friendly and almost everything is modifiable to meet participants at their own comfort and ability level so if a chair is required, that is always okay.  As one participant puts it, "I can hardly believe I'm this into yoga at my age! I do it at least 5-6 times a week, both live Zoom and recorded classes."
Danielle plans to resume the Wednesday morning classes in February and add a little more challenge to those days with mostly standing postures and balancing poses. All classes always include a yogic breathing practice and a brief inspirational meditation.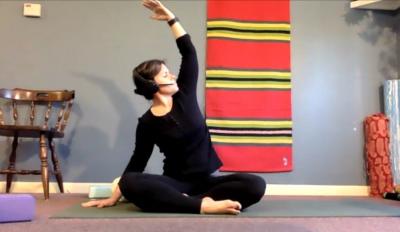 Danielle Casioppo demonstrates a side body stretch during a recent Rise and Shine class.
For more information or to learn how you can join a class or two, click here.