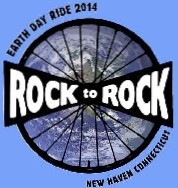 What better way to celebrate Earth Day 2014 than the Rock to Rock Ride?  Yale is a proud sponsor of this year's event on Saturday, April 26.
The 8-mile, 20-mile, and metric century routes from West Rock to East Rock explore New Haven's parks and green spaces, back roads and city streets, city neighborhoods and small towns.   Over 1000 bikers enjoy great music and delicious food on a beautiful spring day.
Rock to Rock riders raise funds to support local environmental non-profits doing high-impact work to create a healthier, greener community, like Common Ground, New Haven Urban Resources Initiative, New Haven-Leon Sister City Project, CitySeed, Inc., and New Haven Parks Department. Last year, Rock to Rock riders raised $100,000.
Whether you are a seasoned cyclist or a weekend warrior, all are welcome at this family-friendly event.  Have a little kid in tow? Join for part of the ride. If you are riding with someone under 18, or are under 18 yourself, read more information here.
Join the rolling cycling celebration! To sign up or for more information, please visit www.rocktorock.org