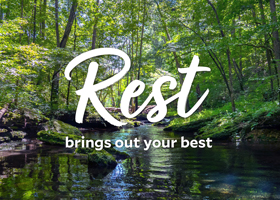 Stepping away from the demands of work to spend time with loved ones, travel, complete simple projects, pursue personal hobbies, or to simply relax at home promotes wellbeing—and this can positively impact your productivity and job satisfaction.
Productivity decreases when we work long hours or weeks without vacation or time away from work. Many may have trouble focusing, suffer burnout from overwork, or become less motivated. The ability to think "outside the box" can also diminish creativity and innovation.
Below, find tips and resources to make the most of your PTO whether it's a luxury cruise, a staycation, DIY project, or a week in Italy.
Staycations
Read a book
Pick up a new work, adventure, romance, or classic read.
Self-Care
Restful Sleep
More