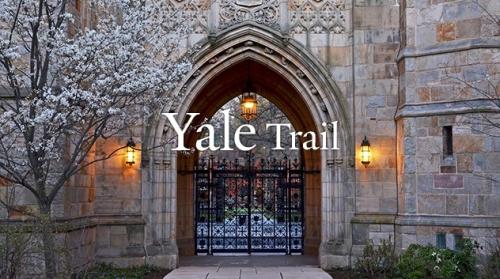 The Yale Trail 2020 Online Wellness Challenge is a great way to stay connected, even remotely, with the campus and other Yalies, and it's a great way to incorporate some positivity and inspiration during this stressful time. With more amazing Yale landmarks, this six-week campus-wide online wellness tour will lead you and your virtual teammates on a fun and exciting journey both near and far! Learn new trivia facts, see beautiful new images, and practice some new health behaviors. 
The health behaviors this year are exercise minutes or steps, water and energy conservation, and acts of kindness. Each day you'll stop at a new location along the virtual trail, earning points and Handsome Dans. And you can answer a fun trivia question and learn about each location.
The Yale Trail goal is to aim for 150+ points by recording your health behaviors. Aim for 25 points per week to achieve the goal in six weeks. The Yale Trail online wellness challenge is open to all Yale University faculty, staff, Yale College, graduate and professional students.  And because it is online, you can participate from anywhere! Once you register via a lap or desktop computer, be sure to download the app for even more convenience.  
In this friendly online competition, virtual teams challenge each other to see who can top the leaderboard. Although you can participate on your own, being part of a team may be the best part of this campus-wide tour. Scores are based on the team's average points and Thrive Thursday challenges (one bonus point/team member each week). Each person's individual contribution affects the team score. Virtual team members participate from wherever they are - on campus, working or taking classes from home, or anywhere in between, and they encourage and support each other along the way. 
Participating with others striving for similar goals keeps you accountable — and doubles your chances of success! So start or join a virtual team with members near by or across the country — the most important thing is to recruit others who are motivated to be active and healthy. You don't have to walk or exercise together to be on the same virtual team. 
Prizes will be awarded to the top three virtual teams on the leader board. Additionally, prizes will be awarded through a random drawing to one of the top 30 virtual teams that have earned the most points.
Participants are welcome to join the Yale Trail online wellness challenge and go it solo if they do not wish to be part of a virtual team however individual participants will not be eligible to win prizes. 
And Yale Trail participants can join the FitStyle Walk-at-Home sessions !
For more detailed information, read the Yale Trail 2020 FAQ.