Have a department event coming up?
Team-building events and departmental lunchtime meetings don't have to be focused around pizza and ice cream. Consider hosting a Salad Social for your next gathering!
What's a Salad Social?
Typically, the department will provide leafy greens, dressings, plates and cutlery. Each participant brings at least one topping washed, chopped, and ready to go. Even in smaller departments, with only a few people bringing toppings, it will be enough ingredients to make a wide variety of delicious salads that will leave everyone feeling satisfied.
Instead of offering soda, consider offering spa water just by adding a few of the salad ingredients, like cucumber slices or mint leaves, to a pitcher of ice water.
Salad Socials are also a more empowering experience than conventional food options which offer little, if any, choice. By encouraging people to participate and contribute, they're able to take an active role in the event, giving them a greater sense of ownership and the ability to shape their food choices. Plus, it's the perfect opportunity to take a break and enjoy lunch with colleagues away from the computer.
What employees are saying:
"I'll be eating more salads for lunch, inspired by the fabulous salad social!"
"It was great to eat lunch with coworkers I don't normally see day-to-day."
"I'll be drinking spa water and eating a lot more salads!"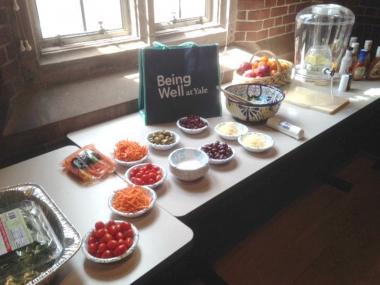 Typical Salad Social ingredients
For more information and tips on how to bring a Salad Social to your department, contact beingwell@yale.edu.