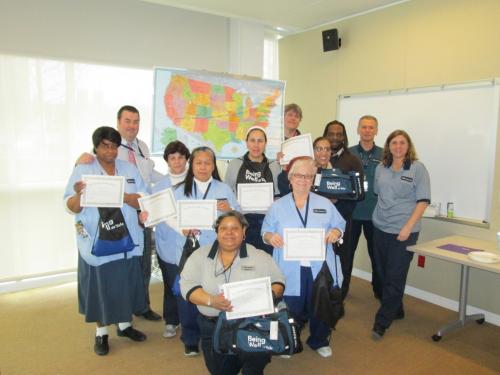 While the streets of New Haven were hidden under a blanket of snow, Yale Health's Building Services' staff braved the elements and banned together to set out on an eight-week, step-based physical activity challenge.  Being Well at Yale helped kick off the program in early January, providing the pedometers, log books and motivation to encourage the staff to incorporate physical activity into their everyday lives.  Over the eight weeks, the department collectively logged over five and half million steps!  Plotted on a map of the United States, the group covered over 2,700 miles, which is the equivalent of traveling to sunny Los Angeles.  Helping to build department morale and encouraging each other along the way, the challenge proved to have a positive impact for many of the participants.  Kasey Gambardella shared that "Wearing a pedometer and watching my daily steps encouraged me to take the stairs instead of the elevator."  Nadine Ricks-McCollum noted that, "The challenge was very encouraging for me.  It gave me a sense of achievement."
The department celebrated their journey and each participant's achievement over a healthy breakfast where everyone received a Being Well at Yale cinch bag and certificate acknowledging their individual steps.  Logging the highest number of steps, Tassy Nicolaou and Nadine are now sporting Being Well at Yale gym bags and bragging rights.
Building on the momentum of their successful challenge, the department is now ready to take on their next adventure and tackle the Appalachian Trail with Being Well at Yale.  Why not join them?  Register today!