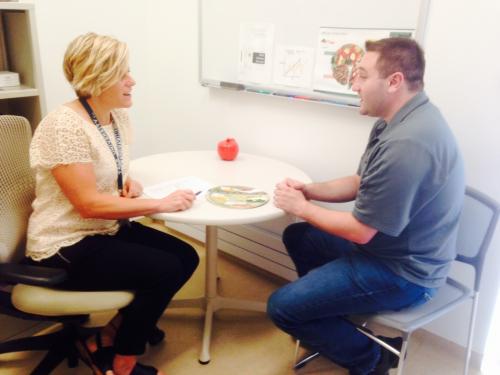 Everyone's weight loss journey is unique, and Being Well at Yale offers weight management program options that build the foundation for a healthier lifestyle by helping Yale faculty and staff to find the program that best fits their needs. Resources such as self-directed tools, group support and one-on-one sessions with a Registered Dietitian (RD) are available for both Aetna and Yale Health Members.  
Choose to Lose is a 14-week personalized weight management program for Yale Health members with a Body Mass Index (BMI) of 30.0 or above referred by their primary care provider. Even if patients have a chronic medical condition, like high blood pressure or diabetes, they can still participate as long as their conditions are well-controlled. Weekly education sessions include face-to-face or telephone appointments with a registered dietitian. 
The program is run by registered dietitian, Becky Purcell. Becky has been a dietitian for 18 years and has been with the Being Well at Yale team since 2016. Over the last two years, this program has grown as a weight management resource for Yale Health physicians and their patients. To date, 155 patients have completed the program, 74 are currently enrolled, and 14 are on the waitlist. The vast majority of patients who complete the program experience weight loss, behavior change and learn valuable new life skills related to nutrition, exercise and lifestyle.     
According to Purcell, what makes this program unique is, "the 14 week structure with a combination of in-person and telephone visits. Checking in once a week helps individuals stay accountable for the goals we set. Weekly check-ins allow us to focus on one week at a time making small, realistic goals, individualized for making lifestyle changes that are sustainable." Indeed, this sentiment is echoed by one of her successful patients, Patrick Madley, Jr., who shared, "what I liked most about this program was that it was tracked weekly and Becky was very positive and helped with any questions I had." 
Some of the skills that Purcell teaches patients are how to meal plan and prepare healthy meals and snacks and to be more mindful when eating. She also teaches them about what a healthy portion size is for them as an individual, emphasizing that learning how to have a healthy balance and good variety of all different foods is key. But perhaps the most important thing is helping patients to make realistic goals that they can maintain long-term. Madley, Jr. agrees, but says it did require hard work and changes to be made, "one change that I found to be most effective was watching what I eat and how many times a day I eat. Honestly, it can be really challenging but with the right diet and, of course, keeping track of calories, you will notice results."  
Those results are measured by several factors including weight, body fat, muscle mass, visceral fat, and blood work (improved lipids and HgbA1c.). "Aside from numbers, we also look at improved energy level, physical activity, sleep and stress levels," Purcell says. Other lifestyle habits like smoking and physical activity are also addressed because, as Becky teaches, "you need both physical activity and diet to improve body composition. Exercise will help build muscle which will improve metabolism and in return burn more calories for sustaining weight loss." 
Patrick put Becky's physical activity advice to good use with his favorite hobby, SCUBA diving. For Patrick, losing weight helps him consume less oxygen which allows him to increase his time spent on a dive. He notes, "one of the most important parts of diving is controlling your breathing and if you're able to do that, you get to experience so much more of the ocean because you can stay under water longer. I realized that the more weight I lost, the more I would get to see and do. Inside and outside of the water, I feel better because of what I've accomplished."  
As the dietitian, Becky's favorite part of the program is seeing how patients change the way they approach eating from being on a "diet" to making lifestyle changes. "Yes, we want to see weight loss", she says, "but if they started drinking water instead of soda, added more fruits and vegetables to their diet, bringing lunch to work instead of eating out, these are all benefits that make me a proud dietitian."
In that case, Becky must be very proud of Patrick's success as he has learned that, "tracking calories gets you to a certain point but after a while you need to be able to manage other parts of the diet such as carbohydrate and fat intake. I feel very good after completing this program. I learned valuable information about maintaining a healthy weight and diet. This program was definitely worth while!" 
For more information on this program and other resources please visit the Weight Management Health Topic.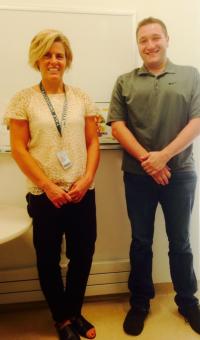 Becky Purcell, MS, RD and Patrick Madley, Jr. 
Photo credits: Danielle Casioppo