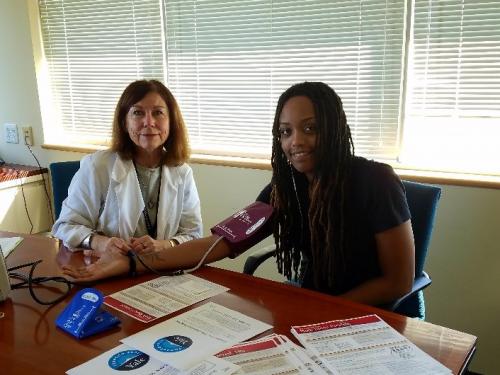 Yale Medicine Administration's HR department was looking for a way to bring wellness to Yale Medicine Administration's 520 employees so they reached out to Being Well at Yale, the employee wellness program, for ideas. Being Well at Yale offers departments a month-long Calendar of Wellness which can help to make every day in that month a wellness day! The Wellness Calendars are customizable listings of daily wellness tips and activities that employees can easily take advantage of. Each day on the calendar links to a local activity, such as a walk or run, a national health observance, a health tip or some sensational seasonal suggestions, like apple picking!
During the month of October, Yale Medicine Administration partnered with Being Well at Yale to offer the "31 Days of Wellness" calendar. Some of the activities they chose to include in the calendar were stress reduction workshops like Color Me Calm and The Science of Gratitude. They also wanted to include a health-related activity and opted for free blood pressure screenings. Another option they chose is chair massage.  Being Well at Yale worked with the department to help cover a portion of the cost. 
Image of YMA 31 Days of Wellness calendar
Here's what some of the participants are saying about the programs and activities they experienced…
Blood pressure screening:
Three blood pressure screenings were held at two different sites, 300 George Street and West Campus. A total of 66 employees had their blood pressure and pulse recorded. Participation was voluntary with many participants requesting to have screening events repeated periodically through the year. 
I just wanted to say thank you for the opportunity to check our blood pressure levels. It was a quick and easy way to monitor our blood pressure" – Marta Gore
It's awesome that Melanie came to West Campus for all of us…thank you." – Kelly Proctor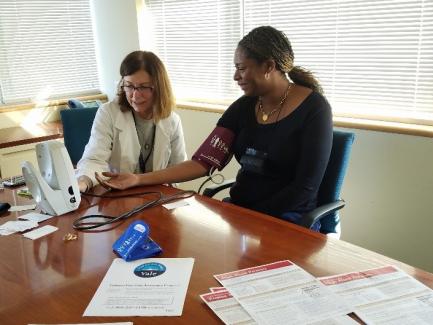 Melanie McCloskey, RN and Datoi McNeal. Photo credit: Kelly Proctor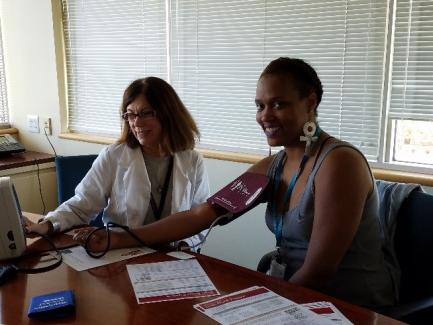 Melanie McCloskey, RN and Denise Griffin. Photo credit: Kelly Proctor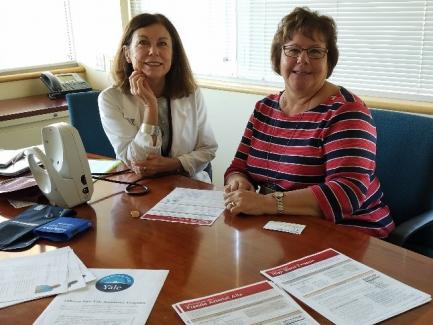 Melanie McCloskey, RN and Susan Mackenzie. Photo credit: Kelly Proctor                                                                                
Color Me Calm:
A picture is worth a thousand words!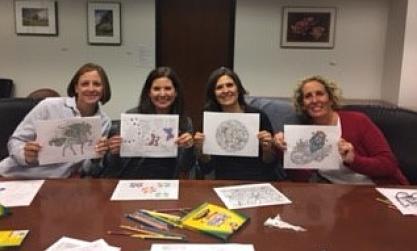 L to R, Courtney Barnikow, Tracey Hammill, Connie Branyan and Peg Gallagher
The Science of Gratitude workshop:
I thought it was very valuable and it was a good reminder of how quickly we forget all the positive aspects in our lives. I was happy to be reminded of the good!"
These types of offerings are really great to help manage stress. Thank you so much for offering and please continue to do so!"
For more information on the monthly wellness calendar, please contact beingwell@yale.edu.