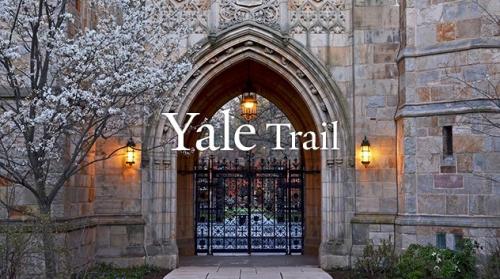 It's hard to believe that the 2020 Yale Trail has just come to an end! Congratulations to the two teams who tied for first place, both with 300 points:
"The Isolators" -Bartosz Migalski- team leader, Mark Kennedy,  Jessica Bavin, Trang Diep, Jessica Wing, Patricia Cirillo, Angeline Rodriguez, Denise Kent.
"The Hillhouse Hikers" -Jennifer Gambaccini-Denillo- team leader, Angela Gambaccini-May, Deirdre Eichner, Sara Wilhelm, Amrit Dhawan.
Congratulations to the second place team "The Bananaramas" -Heather White- team leader, Michelle Morgan, Caitlin Thompson, Sylvia Perez, Julie Ramaccia. They came in with a very close finish with 299.6 points.
And congratulations to the team to win the random drawing, "Remote But Together"- Rita Finnegan- team leader, Rosemary Beloin, Madeline Rabell, Mary Rebollo-Lugo, Joanne Reed, Cindy Burghardt, Lee Reed.
Great work by all teams and those who completed this year's trail!
Here are some Yale Trail 2020 final stats:
•          Total registered participants: 976
•          Total official teams: 138
•          Total wall posts: 233
•          Conserve Water and Energy – recorded 22,954 times
•          Acts of Kindness – recorded 22,184 times
The winning team members will receive custom Yale Trail vacuum insulated 22 oz. travel tumblers. 
While the Yale Trail 2020 may be over, healthy inspiration can continue with Mindful Moments texts or email messages from FitStyle by Shana. The program is open to Yale faculty and staff and runs May 18 – June 28. It is free, sponsored by Being Well at Yale – enroll today!