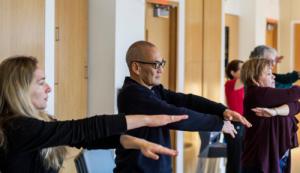 Do you feel stressed much of the time or like you can't quite catch your breath? If so, you're not alone. However there are simple yet highly effective ways to help the body and mind alleviate the effects of daily stress.  Join Danielle Casioppo, Health Educator for Being Well at Yale and certified yoga teacher, for this evidence-based program, consisting of gentle chair-based and standing yoga postures, breathing techniques, mindfulness principles and guided meditation. Learn how to tap into your body's natural ability to reduce feelings of stress.
Participants should wear comfortable clothing, suitable for movement, office casual is fine. Beginners welcome! No equipment needed. 
What participants are saying:
This series gave us easy-to-learn tools that we could use in our offices to relieve stress, which was especially beneficial in our department given the stress of a recent move. It also brought together people from throughout our department with some of our new neighbors, so it helped give us a sense of community in our new space, too. - Martin Kurth, Associate University Librarian for Technical Services.
Read the article about Rise and Shine! Mindful Movement in the Morning by clicking here. For dates, check the calendar by clicking here. 
To schedule this program for your department, please contact beingwell@yale.edu or call 436-8270. 
Photo credit: Heather B. Smith