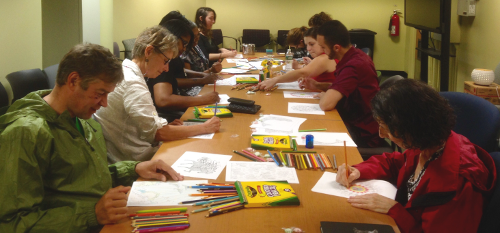 Image: Color Me Calm participants get creative with crayons and colored pencils. Photo credit: Danielle Casioppo 
Think that coloring books, crayons and colored pencils are just for kids?  Not anymore! In this casual, hands-on workshop participants rediscover how and why this once childhood pastime can support well-being and create a meditative state while stimulating both sides of the brain - even in adulthood! 
Participants choose a page or two from a wide variety of adult coloring books with themes like intricate mandalas, wild animals, ocean life, and festive decorations. Then participants can get creative while having fun coloring their designs as soothing music plays in the background. At the end of the workshop, participants head back to work feeling refreshed and with a beautiful masterpiece to brighten up their space. Artistic ability and coloring inside the lines not required! 
Click here for next offer dates or to register. 
Interested in bringing this workshop to your department? Contact beingwell@yale.edu or call 436-8270.