The Level Up eight week physical activity challenge is done! Four teams from around the University have been working hard, consistently tracking steps and/or exercise minutes every week of the challenge! Team members won a Fitbit Zip or a Being Well at Yale technical gym bag as well as bragging rights!
The winning teams are:
Steps Results Winning Teams:
Galvanic Battery, Level 8.0, Difficulty 105,938 - Sarah DelVecchio (Team Captain), Teresa Corato, Donalee Slater, Deborah Pallock, Robert Villani, William Segraves
Sweaty Office Maniacs, Level 8.0, Difficulty 59,364 - Rhona Ceppos (Team Captain), Michelle Pavlik, Diane Whitbread, Bob Sadie, Raymond Chambers, Katherine Kopriva, Anthony Dini, Mary Jarvie, Marianne Castellon, Sarah McClellan, Robert Bartholomew
YMG Finance, Level 7.6, Difficulty 43,245 - pictured directly below from left to right, Theresa Falzone, Austin Mar, Terri Budney, Allyson Maraday, Lynelle Ramos (Team Captain), Elizabeth Hunt, Jill Short, Qi Wang, Wayne Hickman and Joel Ball (photo by Lisa Kimmel).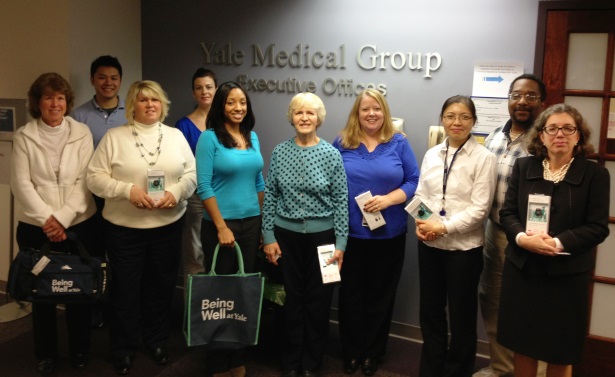 Exercise Results Winning Teams: 
1. Galvanic Battery, Level 8.0, Difficulty 578 - Sarah DelVecchio (Team Captain), Teresa Corato, Donalee Slater, Deborah Pallock, Robert Villani, William Segraves
2. Sweaty Office Maniacs, Level 8.0, Difficulty 287 – Rhona Ceppos (Team Captain), Michelle Pavlik, Diane Whitbread, Bob Sadie, Raymond Chambers, Katherine Kopriva, Anthony Dini, Mary Jarvie, Marianne Castellon, Sarah McClellan, Robert Bartholomew
3. The Boola Boola Girls, Level 7.8, Difficulty 210 – Left to right, First row: Karen Fitzgerald, Karen Kavanaugh (Captain), and Joann DelVecchio, Second row: JoAnn Falato, Kris Kavanaugh, Jo-Ann Ahearn, Back row: Claudia Villano, Pascale Mathieu